Daily Archives: May 5, 2015
Act 1
FINISH: Inference Formulas REview
Act 2: Outline Final Project Paper: See Page 4 of this document which you have
Evaluation
Teachers and statisticians, whose decisions are final, will judge the reports on the following:
Statistical Question: Valid statistical question that is clearly stated, focused, and interesting.
Data Collection: Evidence of direct data collection by students. Data were collected in an appropriate manner to answer the statistical question. Raw data are included.
Data Display: Includes appropriate, well-labeled, accurate displays (graphs and tables) of the data.
Data Analysis: Analysis of the data is accurate, thorough, and appropriate. Conditions are checked correctly for any inference procedures.
Conclusion: Conclusion includes a clear answer to the statistical question that is consistent with the data analysis and method of data collection.
Reflection on Process: Gives a good overall picture of the project&emdash;what went well and what didn't-and includes ideas for further study.
Overall Presentation: Attractive, well-organized, well-written project report.
HW: Collect Final Project Data
Poster or Powerpoint Presentation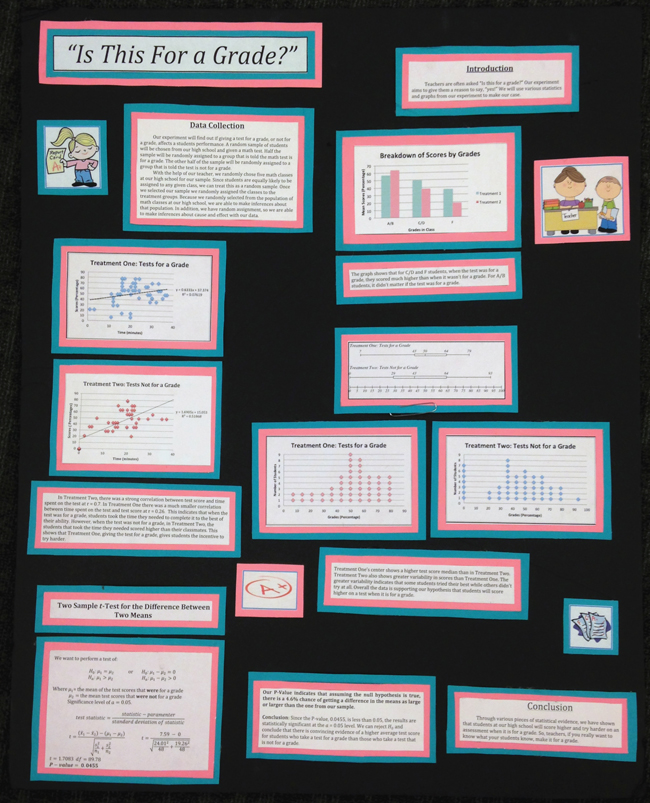 Good luck—
No new HW, but bring Clue tomorrow